When was the last time you freshened up your website? My clients often come to me wanting to update the content on their sites and add more sections or pieces. It's so important to think about how this new content will sit alongside existing information, and not upset the cohesion and balance of the overall site.
I'm a big fan of analogies – they help with perspective and getting to grips with new concepts, so how's about thinking of a visit to your website as a visit to a restaurant! There are many potential visitors to a restaurant – new patrons, regular customers – and they all have different levels of hunger when they visit. Restaurants work hard to satisfy all of these potential visitors, and the most successful ones do it without anyone even noticing!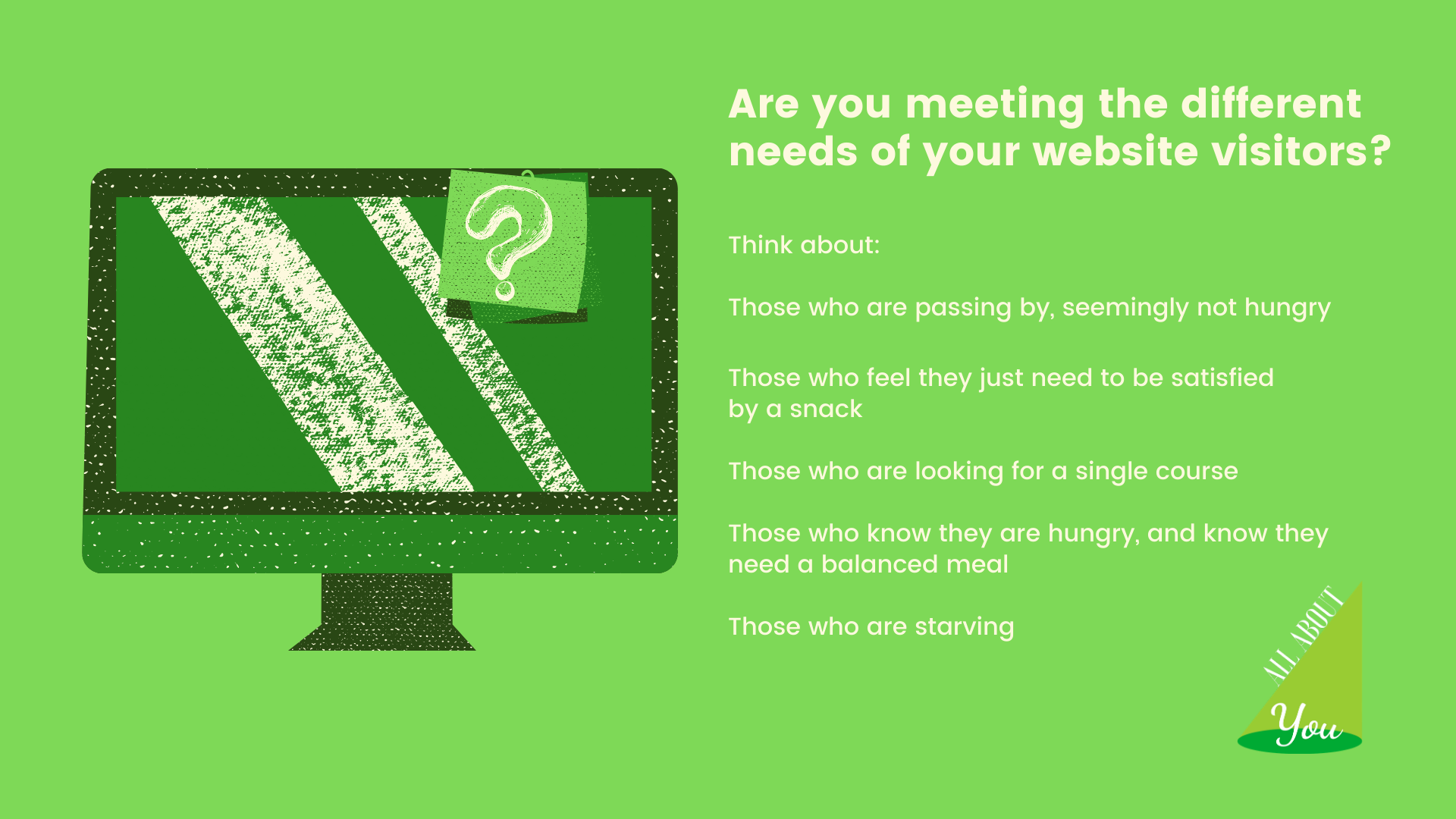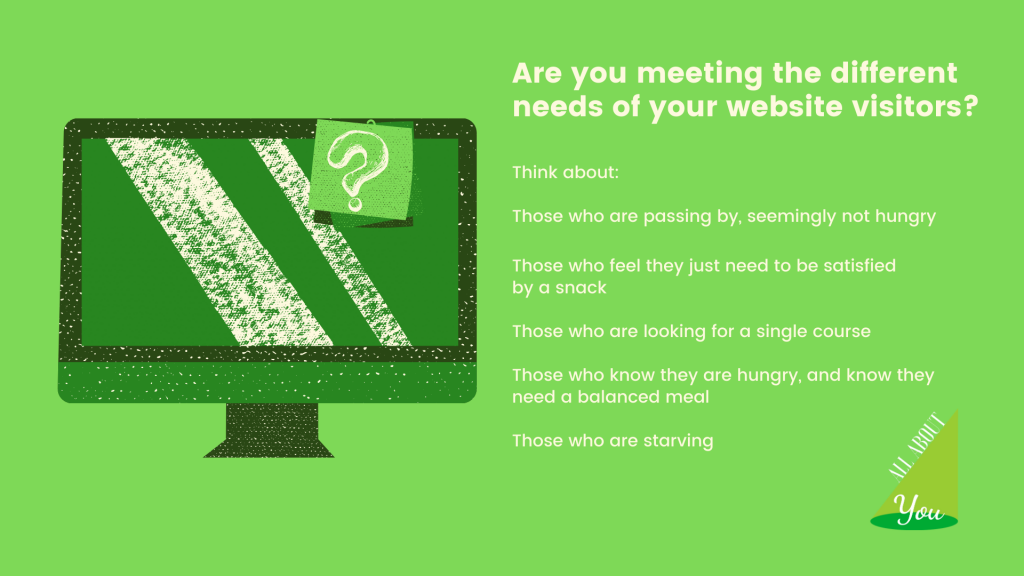 The first type of visitors are those who are just passing by, seemingly not hungry – they are looking through the window of your 'restaurant', checking out the menu board outside. Relating this back to your website, they are unlikely to go beyond home page unless your content whets their appetite. They need an overview of the 'dishes' you offer, and simplicity is vital – ensure you have simple visual and text based 'headlines'.
The next type of visitors are those who feel they just need to be satisfied by a snack. Make it easy for them to dip into bite-size content (blog pieces, tips section etc). They will return when they are hungry if they have enjoyed the 'snack', and found it quickly enough to satisfy them.
Now think about those who are looking for a single course. These are visitors who have made a decision on savoury or sweet – ie: they have made a decision on a product or service they need. Make it easy for them to 'read the menu' and find the product or service they need – make sure you have an 'easily digestible' services or product page with opportunity to compare and contrast products and services. They will return when more hungry having enjoyed consuming their single course. But, it's important not to forget that they might be a light eater, or have a limited budget, so don't push a full meal on them – if they feel uncomfortable, overwhelmed, or disorientated they are likely to walk away.
What about those potential visitors who know they are hungry, and know they need a balanced meal? Make it easy for them to explore your menu. Give pairing suggestions main to dessert, ie: links between products and services. Use phrases such as: "people who bought this also bought…" "people who used this service/ took this course went on to…" (Can you think of successful brands who do this?)
Don't forget those visitors who arrive starving – so hungry that they would eat anything and in any order. Also so hungry that their mind is distracted, so making the correct choice is difficult – when we are really hungry it's all about the 'when' not the 'what'! You wouldn't put a full table of food out for this type of restaurant visitor and leave them to it, and relating this back to your website, think about categorising your products and services into 'starter' main' and 'dessert' – this can be done by using terminology such as 'basic/ standard/ advanced' or 'bronze/ silver/ gold' or 'beginners guide to/ a more in-depth look at/ a deep dive into'. Managed consumption is much better for both us and our clients and leads to long term, mutually beneficial relationships.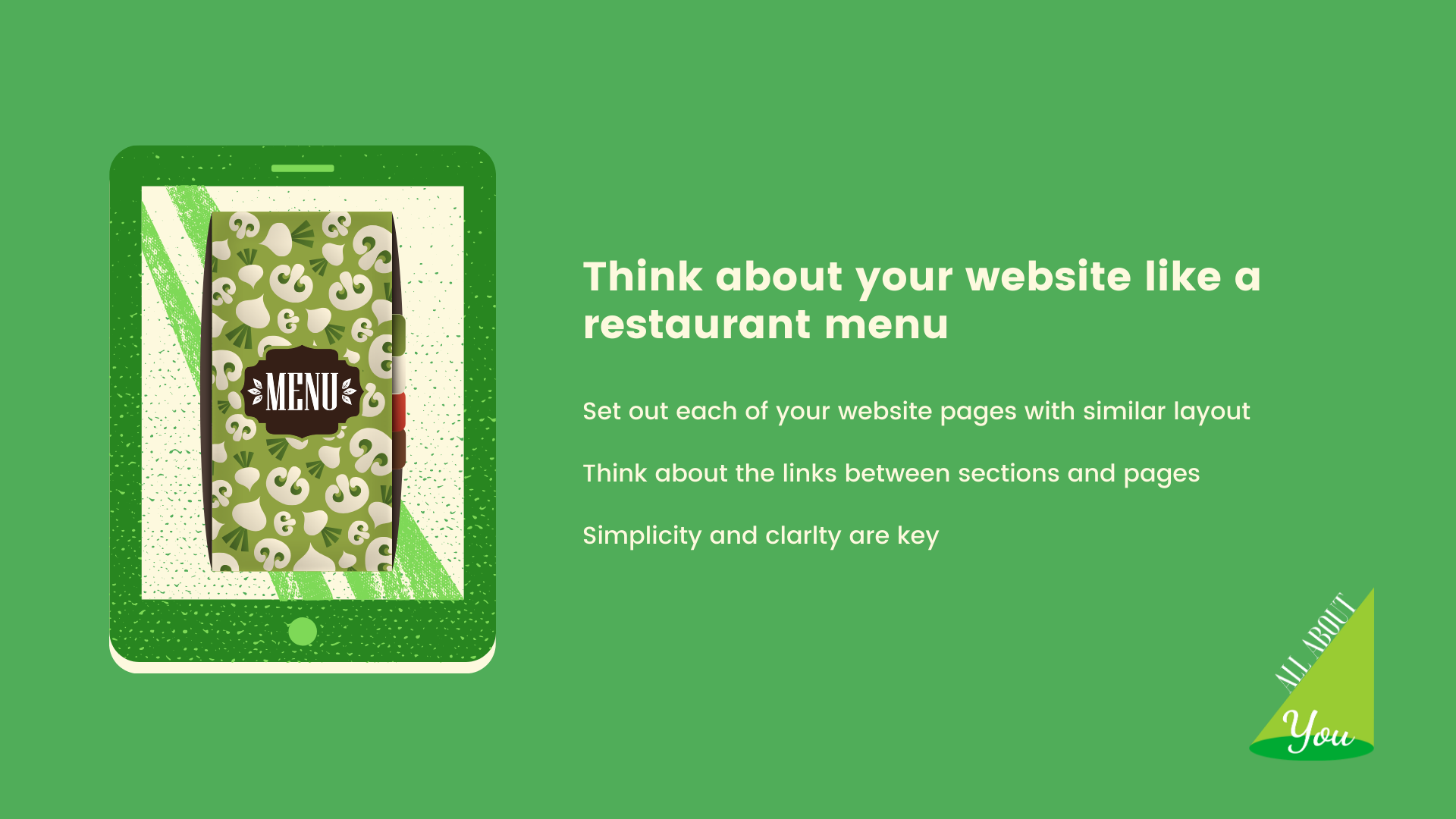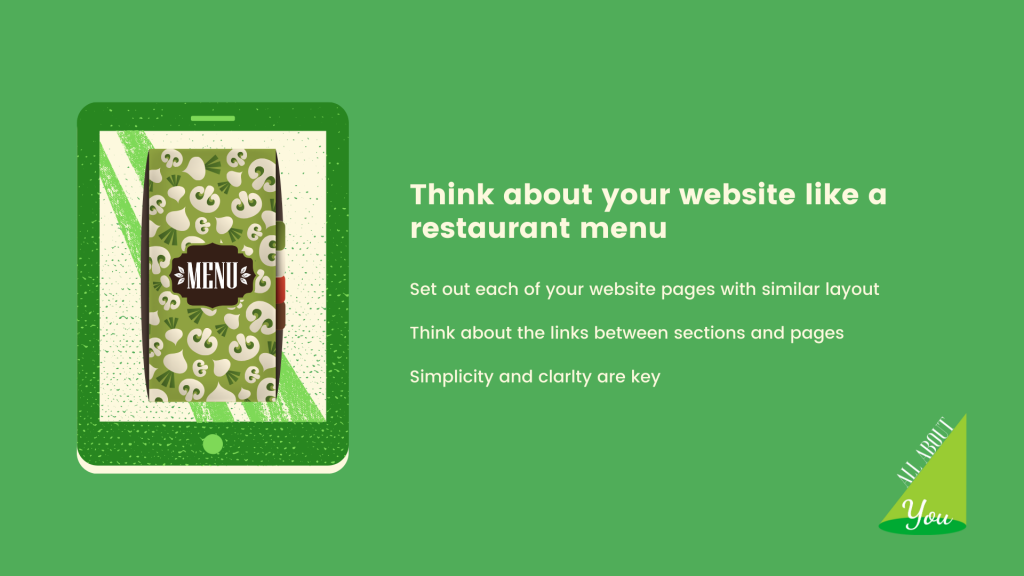 I hope that the above tips will help you view your website with a different pair of eyes, and while we still have the restaurant analogy in our minds, let's think about your website being like a restaurant menu:
It is important to set out your website pages with similar layout – think about the ease (or difficulty!) of menu pages. People start at the beginning and feel comfort from the familiarity of similar layout on each page.
Think about the links between sections and pages – what are you doing to encourage an easy 'turning of the menu page'?
We've all been to restaurants where there is so much choice and conflicting information that it's bamboozling – even if we manage to choose, there is 'Fear Of Missing Out' on potentially the best dish, or something that would have been more appropriate to our taste or our level of hunger.
The best restaurants have a simple, limited choice – the reaction of their clientele isn't concern over lack of choice; it is confidence that whatever they choose it will be cooked freshly to perfection.
If you would benefit from having a conversation about how your website content could satisfy the hunger of more of your visitors, or you could do with some help in updating your 'menu' – you know where I am.